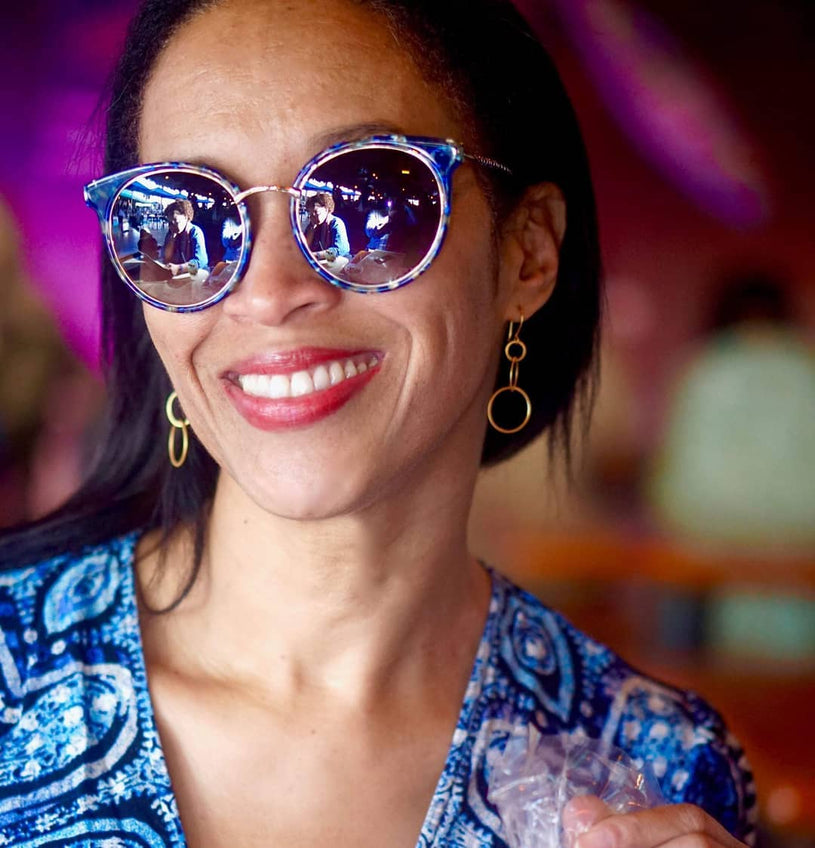 Michele Hall-Duncan
In Remembrance
January 11, 1964 - June 7, 2022
Obituary 
On Tuesday, June 7, 2022, the world lost an exceptional person – Michele Ann Hall-Duncan.
Michele's epic journey began on January 11, 1964 in Flint, MI – the daughter of Earl Ruffin Jr. and Gwendolyn Robison. Her educational path took her through Jefferson Elementary, Whittier Middle School, and Central High School "Class of 1981". But she was most proudly a Spartan for life, having received a degree in marketing and advertising from Michigan State University.
Michele's extraordinary career path was all under the umbrella of one organization – enCourage Kids Foundation (EKF). Within a nearly 30-year time frame, Michele rose from volunteer to President and CEO. She was the heart and soul of EKF and words cannot express the full scope of her impact on the organization and the children, families & hospital partners it served.
She also took her role as friend, big sister, cousin, niece, wife, and mother to the extreme – always willing to lend a helping hand and "fix" any problems for anyone in her extended universe. She was a special person to a lot of people, yet always made you feel like you were the only one.
Michele loved experiencing music and dancing – whether back home in Flint, MI with childhood friends & family, in NYC clubs, or while traveling to one of her favorite destinations, New Orleans. She often cooked her morning oatmeal to Steely Dan and showered to Megan thee Stallion. It's without irony that she passed on Prince's birthday while listening to Little Red Corvette.
Even though breast cancer certainly shortened her life, it never managed to steal her wonderful personality, great sense of humor, and her adventurous spirit. She achieved amazing things even in the last 60 days of her life – from dog sledding under the Aurora Borealis in Alaska to presiding over a $1.2 million EKF gala.
It also certainly did not diminish her beautiful smile, which was an attribute that was lost on no one.
Her memory will be cherished by countless family, friends and colleagues, including Husband Ronald Duncan, Jr. and Son Wesley Hall of Jersey City, NJ; Parents Earl (Dee) Ruffin, Jr. of Flushing, MI and Gwendolyn Robinson of Flint, MI; Sisters Cynthia Drumgole of Bowie, MD, Julia Ruffin of Pontiac, MI, Laura Henry of Davison, MI, Rachelle Ruffin of Pontiac, MI, Antoinette (Broderick) Hannah of Georgetown, TX, Randall Cotton of San Antonio, TX, and Patrice Mustaafaa of Jersey City, NJ; Brothers Jeffrey (Lauren) Ruffin of Grand Blanc, MI, and Winston Ruffin of Flushing, MI; Aunts
Diane Robison, Jacquelyn (Richard) Jordan of Flint, MI, Dorothy Hill of Montrose, MI, Creamella Mayfield of Flushing, MI, Juanita Kumaraswamy of Fort Worth, TX, Diane Crain, and Martha Moore of Flint, MI: Uncles David Robison of Flint, MI, and Claudell Ruffin of Flint, MI; as well as a host of nieces and nephews, cousins, and life-long special friends.
Michele Hall-Duncan was preceded in death by Grandparents Earl & Alma Ruffin; Rubin Robison and Annie Lee Fowlkes; Brother Steven Ruffin; and Uncles Rubin Robison, Richard Jordan, and Henry Bilal Robison.
Michele was Vice Chair of the Board of Trustees of Children's Specialized Hospital Foundation, served on the Advisory Board of one of the leading anti-bullying organizations, STOMP Out BullyingTM, for which she received a 2019 Public Service Leadership Award, and was Board Secretary of the NYC chapter of the Association of Fundraising Professionals, where she also served on the professional advancement committee. Michele was also an active associate member of the Essex Hudson Chapter of Jack and Jill America Inc. for 10-plus years.
The family would like to thank the staff of Memorial Sloan Kettering Cancer Center for their world-class care, compassion, and radical support for her unconventional philosophical approach to life after her diagnosis.
There will be a Celebration of Life on Saturday, June 18th from 2:00 PM to 6:00 PM. Family and close friends will assemble at Sparrow: A Contemporary Funeral Home located at 161 Driggs Ave, Brooklyn, New York 11222. This will be an informal gathering to rejoice and recount the amazing life of Michele Hall-Duncan, through music, videos, photos, story sharing and lots of hugs. There will be an assortment of nibbles. Please email Patrice Mustaafaa at pmustaafaa@yahoo.com if you are planning to attend as there is a capacity limit.
In lieu of flowers, the loving and supportive community of Michele Hall-Duncan, would love for you to support and make donations in her name to the enCourage Kids Foundation.