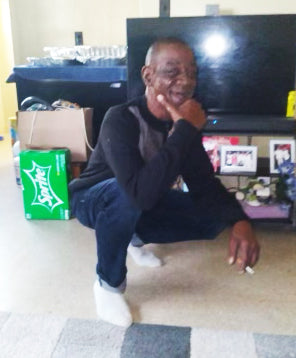 George Randolph Thomas
In Loving Memory
October 27, 1966 - July 6, 2023
Obituary
On July 6, 2023, George Randolph Thomas,
a life long resident of
Brooklyn, New York, passed away at the age of 56.
Known to many as "Head", George was born on October 27, 1966 to the late Annie Lee Thomas and the late George Randolph Collins.
George was a graduate of Forest Hills High School and throughout his life, he was a very hard worker.
He took great pride in the janitorial work he did at Good Counsel DayCare Center in Brooklyn.
To cherish his memories, he leaves behind a daughter, Jackie Bradshaw, of Brooklyn, NY, his three brothers and 2 sister in-laws Charles and Leslie Thomas of Brooklyn, NY, Melvin Thomas of Brooklyn, NY and Ervin and Charlyn (Rhonda)Thomas of Clayton county Georgia.  

George also leaves behind his three sisters Renae (Nakey)Thomas of Brooklyn,
NY,
Pamela (Fefe) Thomas of Georgia and Latasha (Tasha) Thomas of Albany, NY as well as 2 grandchildren, a host of cousins on both his mother and father's side as well as many nieces and nephews and great nieces and nephews. George was predeceased by his sister, Darlene Thomas and his wife, Theresa.
Thank you for George's life, and all the years we shared with him. We lift him to you today, in honor of the good we saw in him and the love we felt from him. Please give us the strength to leave him in your care, in the knowledge of eternal life through Jesus Christ.